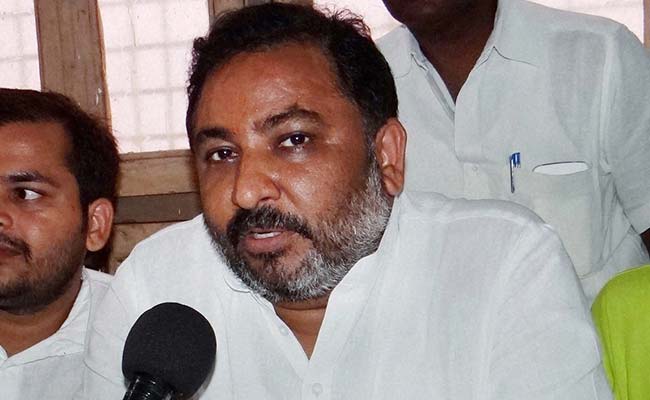 Baliya:
Uttar Pradesh Transport Minister Dayashankar Singh hit back at Samajwadi Party (SP) president Akhilesh Yadav on Tuesday, saying that the Yogi government is organizing an "investors' summit" for the development of Uttar Pradesh. Justifying the increase in the fare of ordinary buses of the State Road Transport Corporation, he said that there will be no increase in the fare of roadways buses for the next five years. Without naming Yadav, he taunted that the government is not spending thousands of crores of rupees by calling big artists in 'Saifai Mahotsav'.
In a conversation with reporters on the sidelines of the "Investors Summit" program organized at the district headquarters on Tuesday, Singh hit back at Yadav and said, "Whatever program the Uttar Pradesh government is doing, it is doing it for the development of the state." It is not spending thousands of crores of rupees by organizing Saifai Mahotsav in Saifai and calling big artists." It is noteworthy that in Saifai, the native village of SP chief Akhilesh Yadav, a grand 'Saifai Mahotsav' has been organized in the previous SP-led governments.
On the other hand, Yadav tweeted on Tuesday, "By increasing the bus fare by 24 per cent, does the Bharatiya Janata Party (BJP)-led government of Uttar Pradesh want to extract the expenses of the 'Investors' Summit' from the public's pocket because they know, don't they?" Till now the previous investment has come and neither will the next one. The BJP, which feeds the rich, has made inflation the fate of the poor and the general public. Inflation will end only after the withdrawal of the BJP.
The Transport Minister clarified on SP chief Akhilesh Yadav's tweet regarding the increase in roadways bus fares and said, "There was no increase in fares for two years during the Corona period. Rent is increasing for the first time after three years. Earlier it was supposed to grow, but could not grow. The rate of diesel was Rs 60 (per litre) and now it has become Rs 90." He assured that there would be no fare hike for the next five years. Reacting to the SP chief's tweet on making Banaras Kyoto Kyoto, While doing this, Singh advised him to go to Banaras and visit Baba Vishwanath. Significantly, the Uttar Pradesh State Road Transport Corporation (UPSRTC) has increased the fare of normal buses by 25 paise per kilometer on Monday.
read this also-
(Apart from the headline, this story has not been edited by NDTV team, it is published directly from syndicate feed.)
Featured Video Of The Day
Are CAPF jawans committing suicide due to increased work load and high tension?